Description
To celebrate the 74th anniversary, FIZAN has introduced COMPACT 1947, the retro limited edition in the colour of black and gold. The COMPACT 1947 is designed specifically for hikers with style and class along with its sleek and glamorous finishing. 
The COMPACT series has always been the most popular product lineup of FIZAN throughout the years. Built with ALU 7001 Aluminium Alloy, the COMPACT has been famously known for its stiffness and durability, while being the "World's Lightest 3 Sections Pole" with only 158 grams per stick. 
The Best and The Lightest-ALU 7001
ALU 7001 Aluminium used in the COMPACT Series is manufactured with Zinc and Magnesium, giving it the exceptional performance in stiffness and durability, especially on the ability on preventing from fractures and snaps. While being used in high intensity training or trekking, the pole could hardly be broken into shattered parts even with extreme external forces, minimizing the possibility of being injured by the broken pieces, making the COMPACT Series safe and reliable in all circumstances.

FLEXY Locking System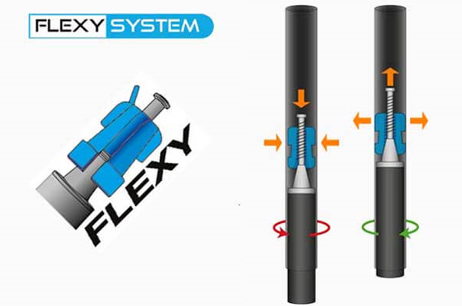 FIZAN patented FLEXY Locking System is built with the reliable Aluminium barrel adjuster, and the closed adjustable locking compartment made of Delrin polystyrene. The locking compartment could take up to 100kg (220lbs) horizontal forces repeatedly, while hikers could single-handedly adjust the length of the pole, making it convenient and safe to use anywhere.
*COMPACT 1947 comes with Art.202 Container Bag, letting you to bring it alongside conveniently. 
Building Material:ALU 7001 Aluminium Alloy
Adjustable Length:59-132 cm

Adjusting System:FLEXY 3 Sections Twist Locking System
Body Diameter:17/16/14 mm
Hand Grip:EVA Ergonomics Grip+Polyester Strap
Tip:E-Basket Alu Carbide
Accessories:35mm and 50mm basket、Rubber Tip、Art.202 bag


Made in ITALY.



Customer Reviews
{{'product.product_review.no_review' | translate}}