Description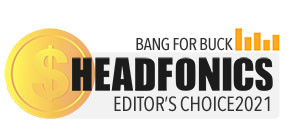 HEADFONICS - BANG FOR BUCK EDITOR'S CHOICE 2021
Full-Bodied Dynamic Sound
The unmatched cohesiveness of a single full-range dynamic driver meets the compact comfort in our all-new ABS earphone body.  
Honeydew's custom-built 10mm LCP diaphragm dynamic driver performance is characterized by a reference level bass response that is fast and detailed. Music creators and listeners who crave punchy, detailed bass, Honeydew delivers, and it does so on an expansive soundstage that is clear and detailed.
Close attention to detail is critical to delivering you a superior musical experience from our earphones. Honeydew features an acoustically optimized interior chamber and rear port design that allows its driver to deliver the very best sound quality.
Optimized Tuning for Full Range Dynamic Fun
At the heart of Honeydew is a single full-range 10mm dynamic driver. We select dynamic drivers for their warmth and musicality, and this driver design follows that formula perfectly. Beyond the driver, we optimize all of our earphones with carefully designed acoustic chambers that are individually 3D printed. Honeydew shares this design DNA. A 3D printed acoustic chamber, as well as a rear port design, shapes the frequency response curve to optimize the performance of its full-range liquid crystalline polymer (LCP) diaphragm.
Compact Canvas Carrying Case from Portugal
This is a new size carrying case from Campfire Audio. It's even more compact than our classic case dimensions and now fits easily into your pocket, keeping your earphones protected and within reach.
Driver: 10mm Dynamic Driver
Material: Stainless Steel Spot / ABS Chassis
Frequency Response: 5 Hz - 18 kHz
Sensitiveness: 94 dB SPL @ 17.68 mVrms
Impedance: 17.44 Ohm @ 1 kHz